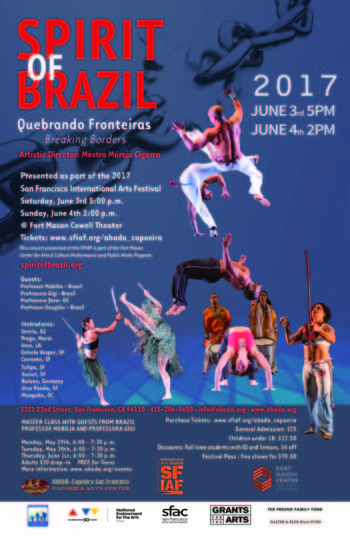 Spirit of Brazil 2017 Quebrando Fronteiras (Breaking Borders)
JUNE 3rd at 5p.m.; JUNE 4th at 2p.m.
SPIRIT OF BRAZIL TICKETS:  http://www.sfiaf.org/abada_capoeira
Spirit of Brazil '17 brings the artistic splendor of Brazil to San Francisco—presenting some of the world's best folk traditions and artists.
Artistic Director, Márcia Treidler will premiere new, innovative choreography derived from a fusion of contemporary and traditional Brazilian music, dance and capoeira.
Presented by an intergenerational and international cast, the dynamic acrobatic and athletic movements, history and tradition, and heart-thumping rhythms will leave you inspired!
The art works presented, born out of a resistance to oppression and now internationally practiced, remind us of the power of resistance—a message relevant today. Not to be missed!
This concert presented at the 2017 SF International Arts Festival is part of the Fort Mason Center for Arts & Culture Performance and Public Works Program.
More information visit: www.spiritofbrazil.org