INSTRUTORA SEREIA
Jennifer Walsh "Instrutora Sereia" has been training with world-renown Mestra Márcia "Cigarra" since 1994, and remains her top student today. In 2003, she became the first female non-Brazilian practitioner ever to be given the title of "Instrutora." In 2007, at the International ABADÁ-Capoeira Conference in Brazil, she made history again and was the first ever non-Brazilian female to receive her purple-brown cord. Since 2003, she has been the top ranked female non-Brazilian capoeirista in ABADÁ-Capoeira worldwide, and has won numerous titles in competitions in Brazil and the US. She has taught, performed and competed in capoeira throughout the US, and in Brazil, Canada, and Mexico.
Instrutora Sereia helped establish ABADÁ-Capoeira San Francisco (ACSF) with Mestra Cigarra and has served as the organization's Executive Director for the past twenty years. She is a lead member of the ACSF Performance Company performing in each of ACSF's large scale performances including the acclaimed Spirit of Brazil performance and the San Francisco Ethnic Dance Festival.
After fifteen years of training and working with ACSF in San Francisco she made the decision to relocate and has settled in Tucson, Arizona. She maintains her commitment to the art form that has shaped her life by continuing her work as ACSF's Executive Director, and as member of the board of directors. She is regularly in San Francisco to offer her leadership as a director and a capoeirista.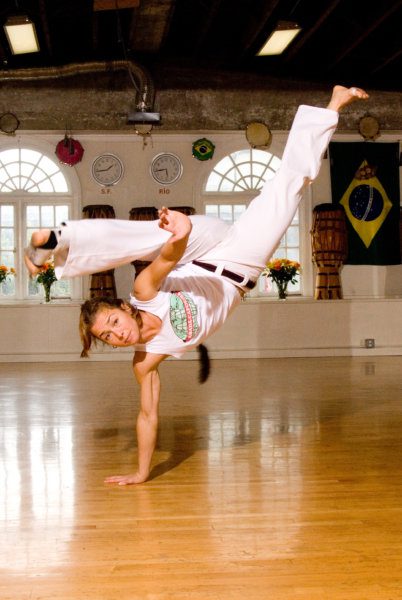 ---
INSTRUTOR PREGO
Diego Freitas "Instrutor Prego" is originally from Rio de Janeiro, Brazil. After moving the United States and residing in the New York metropolitan area for a few years, he recently relocated to San Francisco to train and work under the guidance and support of Mestra Márcia Cigarra and ACSF.
Instrutor Prego brings over twenty years of experience in the art of capoeira to our Bay Area community. He is well known for his ever-present smile, and accompanying energetic character. Instrutor Prego has joined the ACSF teaching-artist staff conducting youth classes at various partnering sites. He is also working with ABADÁ-Marin as an instructor.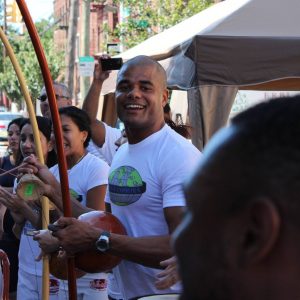 ---
INSTRUTORA VESPER
Sara Breselor "Instrutora Vesper," has been training with Mestra Márcia Cigarra since 2001, and was given the level of instructor in 2009. She is undeniably one of the hardest working students at ACSF, training regularly, performing, and teaching as needed. She has traveled to Brazil five times to participate in workshops, attend Mestre Camisa's Zumbimba festival, and compete in the Jogos Mundiais.
She has performed hundreds of times with the ACSF company including notable performances in the Spirit of Brazil concert series, and the San Francisco Ethnic Dance Festival. And, she is a member of the ACSF board of directors since 2014.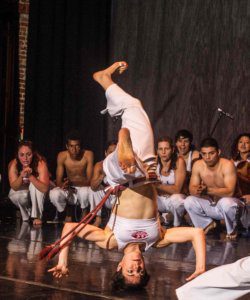 ---
INSTRUTOR CORRENTE
Antonio Contreras "Instrutor Corrente," an accomplished artist and athlete, has been an integral part of the ACSF community since he began training with Mestra Márcia Cigarra in 2001. He is now one of ACSF's lead instructors and performers. He has performed hundreds of times with the ACSF company including notable performances in the Spirit of Brazil concert series, and the San Francisco Ethnic Dance Festival. In 2007, he expanded his leadership by joining ACSF's Board of Directors.
Instrutor Corrente is Mestra Márcia's point-person at the Center, and spearheads our SF PRIDE and Carnaval SF contingents. He has traveled to Mexico for ABADÁ-Capoeira events, as well as Brazil to compete in the Jogos Mundiais and attend Mestre Camisa's intensive ZUMBIMBA.
Since 2008, Instrutor Corrente has been the lead instructor for ACSF's arts education programs both on-site and off-site. He continues to do an outstanding job teaching at ACSF, running the school-year and Summer Camp program, and working in numerous local schools— personally improving the lives of hundreds of bay area youth each year.
Instrutor Corrente brings his background and charisma to his work with youth, striking a balance between hard work, discipline, and the freedom to be yourself without judgment. His work with youth has been recognized with the Bay Area A-List Award for Best Children's Dance Studio, in 2012, 2013, 2014, and 2015.
---
INSTRUTORA TULIPA
Aimée Fribourg "Instrutora Tulipa" started training capoeira at ACSF with Mestra Márcia in 2005. She has traveled to Brazil numerous times to attend a range of capoeira events including competitions and ZUMBIMBA. She also travels regularly to participate in other ABADÁ-Capoeira events in the US and abroad.
Instrutora Tulipa started teaching the ACSF Sunday Community Class in 2011, all the proceeds of which go directly to a fund for sending teen participants to Brazil. In addition to teaching, she is a lead performer in ACSF's performance company.
---
INSTRUTORA SUCURÍ
Rhodora Derpo "Instrutora Sucurí", started training capoeira in Hawaii in 2001 and, after a 3-year break, resumed her training with Mestra Marcia Cigarra in 2006. Instrutora Sucurí has traveled to Brazil to compete in the Jogos Mundiais and attend Mestre Camisa's intensive ZUMBIMBA.
In 2012, she established ABADÁ-Capoeira Chicago and hosted her first Batizado there in 2014. She moved back to San Francisco in 2015 and continues to supervise her students in Chicago. She is part of ACSF's teaching-artist staff and is a core company member of ACSF's Performance Company. In 2016, she joined ACSF's Board of Directors.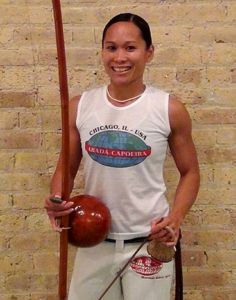 ---
INSTRUTOR URSO PANDA
Zak Douglas "Instrutor Urso Panda" has been a student of ABADÁ Capoeira under Mestra Márcia Cigarra since 2006. Born and raised in San Francisco, he began training at age 15 at ACSF as part of the Reaching All Youth (RAY) Program. He has performed with the ACSF Performance Company for the Spirit of Brazil concert series since 2009, as well as performing in countless on- and off-site performances around the Bay Area. He has travelled to Brazil numerous times to attend workshops, compete in the Jogos Mundiais, and participate in ZUMBIMBA, an annual Capoeira intensive held throughout the month of November at the Centro Educacional Mestre Bimba (CEMB). In 2016 at the Jogos Brasileiros, he received the rank of Instrutor.
Instrutor Urso Panda has lived in Rio de Janeiro, Brazil twice for the purpose of deepening his understanding of Capoeira directly from Mestre Camisa, ABADÁ Capoeira's President and Founder. In 2013, he stayed for three months at CEMB, Mestre Camisa's ecological farm and capoeira center, researching improvements for the farm's sustainability infrastructure, while training at nighttime classes. In July 2016, under a study abroad program through the Pontifical Catholic University in Rio de Janeiro, he returned to Brazil to train directly with Mestre Camisa for six months. "The experience of living and coexisting with Brazilians, training Capoeira under Mestre Camisa, and learning Portuguese directly taught me an immense amount about the roots and true nature of this beautiful art form. Coming back to the US, I feel even more inspired to contribute to Capoeira's development and expansion here in San Francisco." He now works as the ACSF administrative assistant.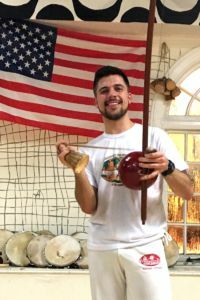 ---
INSTRUTOR MOSQUITO
Jackson Ferreira "Mosquito" joined ABADÁ-Capoeira under Mestre Camisa in 2015.
He began his journey in capoeira in 1989 in Porto Alegre, Brazil. Mosquito taught capoeira in Brazil beginning in 2007, and now, since 2010, teaches in the US. Mosquito now leads ABADÁ Capoeira Orange County teaching capoeira, specializing in working with kids and young adults with special needs.
Mosquito has vast experience not just teaching, but also as an accomplished percussionist, and performer for over 10 years.
---
GRADUADO PAPAGAIO
Elias D. Gonzalez "Graduado Papagaio" originally from Guatemala, began training capoeira with Mestra Márcia Cigarra as a teenager in 2007. He has grown to become a lead student, and a lead performer with the ACSF Performance Company.
Graduado Papagaio has a love and talent to compose and sing capoeira songs, and has composed music for ACSF events such as "Boa Alimentação" (good health), and "Nosso Futuro" (our future) for the Kid's Batizado in 2010. He has composed capoeira songs on his own earning him several awards at capoeira song competitions.
In 2008, he began assistant teaching in the kids' and teens' capoeira classes and, in 2010, he started leading classes for both youth and teens, including the Sunday Community Class. He has continued to grow as an instructor of capoeira, and serves as an important role model to the numerous youth he works with in San Francisco schools.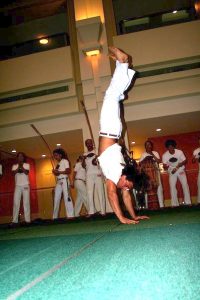 ---
GRADUADA CIRANDA
Lisa Silva Willoughby "Graduada Ciranda" was born and raised in Goiânia, Brazil. In 1998, she earned a Bachelor's degree in Marketing and Public Relations from Universidade Estadual Paulista (São Paulo State University). Following college, Lisa worked in the marketing field in her native Brazil. In 1999, she moved to San Francisco to obtain additional training in marketing at U.C. Berkeley. She subsequently was recruited to work for a local marketing firm and decided to make the Bay Area her permanent home.
In 2007, Graduada Ciranda began training under Mestra Márcia Cigarra at ACSF. Since then, capoeira has become her life passion and she has continuously trained at ACSF several times a week. In May 2014, she formed ABADÁ Capoeira Marin, an organization closely modeled after ACSF, to bring Capoeira instruction to the Marin County area. Currently, she teaches capoeira to all ages — from pre-school age children to adults — at various cities in Marin County.
ABADÁ Capoeira Marin can be found at abadamarin.com.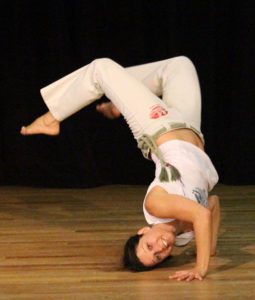 ---
GRADUADA TONINHO
Erica Hemenway "Graduada Toninho" began training capoeira under Mestra Marcia "Cigarra" in 2008. She was immediately drawn in by the athleticism, the playfulness and the grace of the unique art form and by the strong sense of community it created. She has been a member of the ACSF performance troupe since 2010 and has joined them in performance at the San Francisco Ethnic Dance Festival, Cuba Carribe and The Spirit of Brazil. She has also participated in and countless educational performances at schools and youth programs around the San Francisco Bay Area.​
Graduada Toninho has traveled to Brazil three times to participate in workshops for the Jogos Mundiais. She has also trained at ABADÁ schools in Canada, Mexico and Puerto Rico. She currently teaches capoeira to teens and adults in Visalia, California and returns to train in San Francisco as often as possible.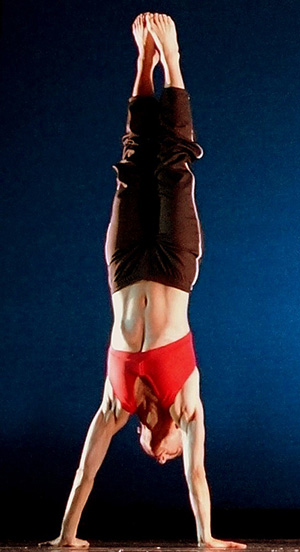 GRADUADA POLVO
Alazan Flores "Graduada Polvo" began training capoeira in 1994, with Mestra Márcia Cigarra and Instrutora Sereia at the age of three. She was a pre-school student at the Katherine Michaels School, where ACSF was offering classes as part of the school's curriculum. She has been an active student ever since.
Literally she has grown up in the ACSF community—going through the children's program, the teen program, and now as an adult student, performer, and instructor. Her development has involved years of volunteering, training, performing, assistant teaching and teaching. Since 2011, she also has worked as part of the ACSF administrative staff working the front desk.
In 2015, after working as an apprentice instructor for over a year assisting with the ACSF summer camp, as well as other youth classes, she became a part of the ACSF teaching staff. "Working as an instructor with the ACSF team has been one of the greatest parts of my capoeira experience. As an instructor, I believe I learn as much or more, as I teach. I work to consistently find new, effective ways to teach children the various aspects of this wonderful art form in a manner they understand and enjoy".
Graduada Polvo performs regularly with the ACSF Performance Company, and has traveled to Brazil twice to attend the ABADÁ-Capoeira International Capoeira Festival.
---
GRADUADO PANTERA
Juston Johnson "Graduado Pantera" has been training under Mestra Márcia Cigarra since 2007. After showing great athletic promise, he joined the ACSF Performance Company for the Spirit of Brazil concert series in 2009.
Graduado Pantera's work-life required him to leave the Bay Area in 2009, but he remained active in the ABADÁ worldwide community, making an effort to travel to train. From 2009 to 2014, he traveled the world training with the leaders of ABADÁ-Capoeira on almost every continent. Some of the countries he has lived and/or trained in are the USA, Brazil, South Korea, Japan, France, Israel, India, and many more. While living in Korea, he helped Graduados Malencia and Espantalho kickoff the ABADÁ-Capoeira South Korea school, performed at a number of events all over South Korea, and attended its first batizado in 2014.
In 2014, Graduado Pantera relocated back to the US for work and started the ABADÁ-Capoeira Los Angeles school. He regularly returns to ACSF for training and fellowship while he grows the ABADÁ community in LA.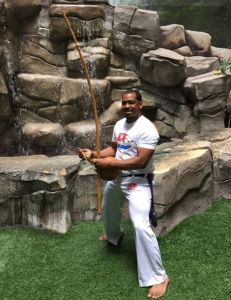 ---
GRADUADO BARAÚNA
Tony "Baraúna" Shepherd is a native of Alabama, who found his way to Capoeira after a life of American football. Education brought Baraúna to San Francisco, and it is here that he started training capoeira in 2010 under Mestra Márcia Cigarra.
Graduado Baraúna thoroughly loves and enjoys capoeira with an even deeper affinity for the movements. Since the start of his training, Baraúna has participated in many community performances, the Boa Voz Workshop, Kids Batizados, and the highly revered ACSF productions "Spirit Of Brazil" directed by Mestra Cigarra. Even in those moments where he is not training or participating in an event, he likes to record and document them. "Capoeira is more than an art to me, it is a lifestyle," says Baraúna.
In 2017, Graduado Baraúna moved back to Alabama where he started ABADA Capoeira Alabama where he focuses on the basic fundamental movements of ABADA Capoeira.
You can follow Abada Alabama via www.abadaalabama.com
---